What Our Students Say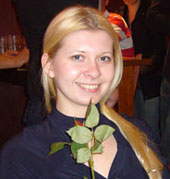 I am really enjoying studying at WLA because it helps me a lot in improving my English. The lessons are absolutely fantastic and the teachers are very professional. I'm currently preparing to take the First Cambridge Certificate exam. I'm feeling quite confident about the exam because at WLA I have been giving lots of opportunities to practice everything and I have really improved writing and speaking skills. During the lessons we are doing a lot of exercises in reading, listening and grammar.
The school is open for everybody willing to practice after classes. We have all the necessary literature for preparation and the teachers are very professional and helpful in answering all the questions we have. Social life is absolutely amazing. We have been visiting famous musicals, going to the cinema, going to the trips to beautiful castles such as Windsor Castle, Leeds Castle, Hampton Court Palace. I have recently visited such musicals as Les Miserables, Mamma Mia, Phantom of the Opera and I am very happy about that.
Studying at WLA has enriched my life with fantastic, bright memories. I have made lots of friends from different countries, have visited lots of sights and places of interest and, the most important thing, have improved my English for 100%. It has been an unforgettable experience for me, I have spent the happiest days of my life studying at WLA.
Kate Maskvichova, Belarus

I finished my 12 week course in Wimbledon Language Academy and now I have a lot of new friends from different countries. I spend many wonderful times in classes and my English is much better now. If you choose this school you will improve your English in a friendly atmosphere and you will never forget that period of your life.
Snezana Isakovic, Serbia

With the teacher and students appearing nice to me from the really first moment WLA seemed to be the best choice for me and now after having been studying here for 6 months I can confirm that it really was. Thanks to the good quality of the lessons, the good atmosphere and teachers who are willing to help you with your English I really had the chance to improve my English language skills enormously.
So if you are searching for fun, new friends and of course improving your English skills, WLA is the perfect place for you! I'm sure the experiences you make here will never fade away!
Christina Ganz, (Au Pair) Germany

Since I joined the WLA I've spent a great time as a student. One of the good things about the school is the way the students are encouraged to feel the part of it. To me is almost like a home. I really enjoy the regular trips and excursions and the internet community where even the people who already left always maintain contact. I think that is the reason I will miss the school so much! I've been looking for a school in different places around London and I have no doubt that WLA is the best value for my money.
Matias Abel Acosta, Argentina

Before coming to London I was so worried and shy. I knew the best way to improve my English was through meeting people and practicing speaking with them. I have learnt English easily at WLA; the teachers and students were always together; going out to different places in London. Because of WLA, I have seen most of world's famous musicals. In my opinion, if you want to learn English, the best address is London and WLA. I am sure you will never regret your decision.
Yesim Bicakai, Turkey
Contact Us Here
We are members of: